Project success is often illusive, and countless studies report failure rates varying between 50-70%.
According to the 2021 AIPM and KPMG Project Management Survey, of the respondents who had an established PMO in their organization, 59% used it as a "centre of expertise", which helps to "contribute to the consistent success and business benefits of projects and programs".
So what exactly is a Project Management Center of Excellence (PM COE)? How does it change the success rate of project delivery?
What is a PM COE?
A COE is a hub of expertise and resources in the discipline (in this case, project delivery) to elevate performance and business value. It is an independent entity, established with a specific purpose, funded, and staffed with full-time experts in a diverse array of specialized areas. It provides leadership on best practices, a resource center, and a mandate to disseminate that knowledge and capability in your organization.
Is the COE function a part of a PMO? That depends on the scope of the PMO. When a PMO is focused solely on delivery, it may not cover the mission of a COE. Distinct COEs tend to be found in organizations with multiple, federated PMOs.
How is it different from a Community of Practice (COP)? A COP tends to be an ad hoc, informal group of peers with PM responsibilities, not a dedicated group.
What are the core functions of a PM COE?
Sets the strategy for the project delivery discipline.
Acts as champion of the discipline with all stakeholders, promoting a value delivery mindset.
Provides a central hub of all standards, tools, and best practices.
Sets guidelines on portfolio management, governance, and metrics.
Ensures competency of all PM staff through learning opportunities, onboarding.
Provides coaching and support to PM and project stakeholders in the context of projects.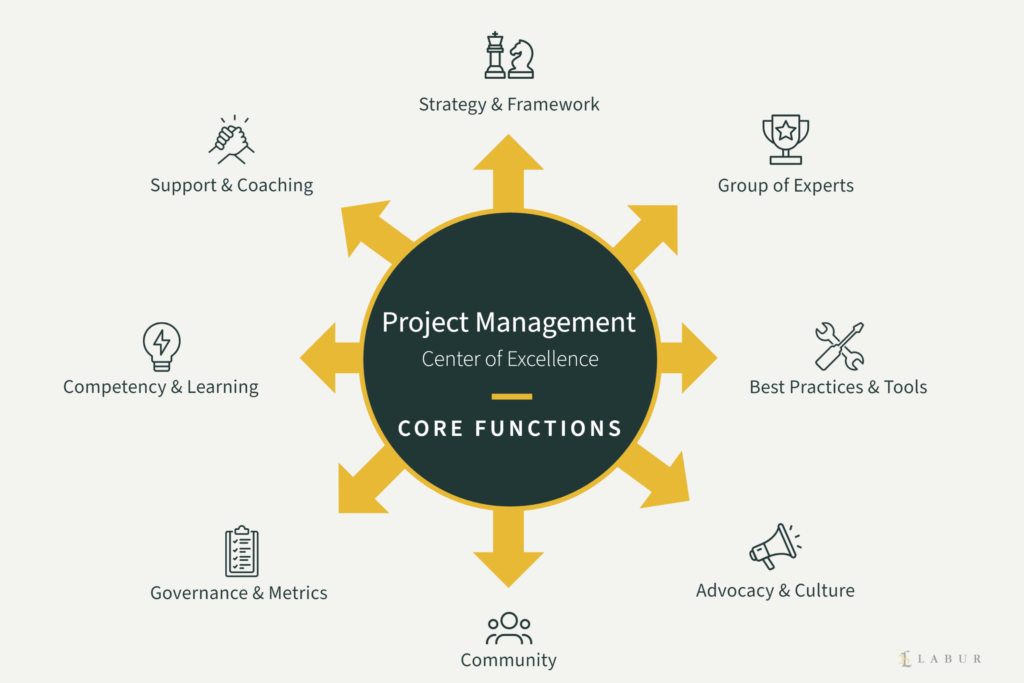 Advanced PM COE functions
Well-established COEs foster a community of members of the discipline and provide thought leadership. They may work with Talent teams to define PM roles and vet capabilities and build development and career paths for the discipline. Some organizations rotate PMs between COE and PMO/project delivery to keep skills fresh and inject a continuous improvement loop.
Benefits & Outcomes
As a hub of expertise, COEs promote a consistent framework for the project management discipline of an organization with distinct outcomes:
Standardization of Practices: Creates consistency and predictability of methods, processes and tools, leading to lower risk and less rework and waste.
Enhanced Project Performance: Learning and training for the PM staff on these standards, across applicable methodologies used in the organization, builds competencies and confidence, alignment, and IT/business engagement.
Stronger Business Alignment: A well shared framework applied consistently across projects, solid communications and transparency, and the advocacy of the COE leaders foster transparency and a common cause. Project governance and compliance are no longer viewed as burdensome controls but sound mechanisms to support technology investments and values.
Conclusion
A well-functioning COE provides guidance, consistency, continuous improvement, and empowerment to the project delivery teams and stakeholders. It elevates their capabilities, raises project success and business impact. The most effective COEs wrap oversight into a partnership approach, with servant leaders who encourage a learning culture.
How can LABUR's Advisory Services practice assist your organization's digital transformation strategy? Contact advisory@labur.com to learn more.